About the Les Paul Experiencing Innovation Music Tech camp
The Les Paul Experiencing Innovation Music Technology Camp at WPI is a week-long immersive experience through which middleschool and highschool students learn to use technology to facilitate musicianship while also examining the innovative, experimental, and fearless work of music technology pioneer Les Paul. The camp curriculum was developed by WPI music professor V.J. Manzo with the guiding philosophy that any student, including students without any prior music training, could use technology and technology-based musical instruments to learn how to compose and perform original music. Since 2013, Manzo's music technology camps have run multiple sessions for students of different ages and experience levels at WPI, and campers in this program use music technology software, hardware, and instruments developed in Manzo's research labs the Electric Guitar Innovation Lab (EGIL) & the Interactive Music Systems Lab (IMSLab) as tools toward learning to compose and perform their own music. These tools offer increased accessibility for non-musicians, and promote a sense of community by actively engaging students in small teams toward creative goals.
The Les Paul Experiencing Innovation Music Technology Camp had its inaugural run in summer 2021 with the generous support of the Les Paul Foundation and continues to run annually at WPI. As an overarching theme of this camp, students learn about Les Paul's life of innovation and musicianship through hands-on project-based learning activities that re-create, adapt, and use inventions explored by Les; the scope of this instruction includes topics related to electronics, engineering, musicianship, composition, and performance presented through the lens of examining Les' work and mindset in these areas. By the end of the week, students leave the camp with new musical instruments, electronics, and other technologies they make themselves, a digital portfolio full of their own compositions and recordings, and much more!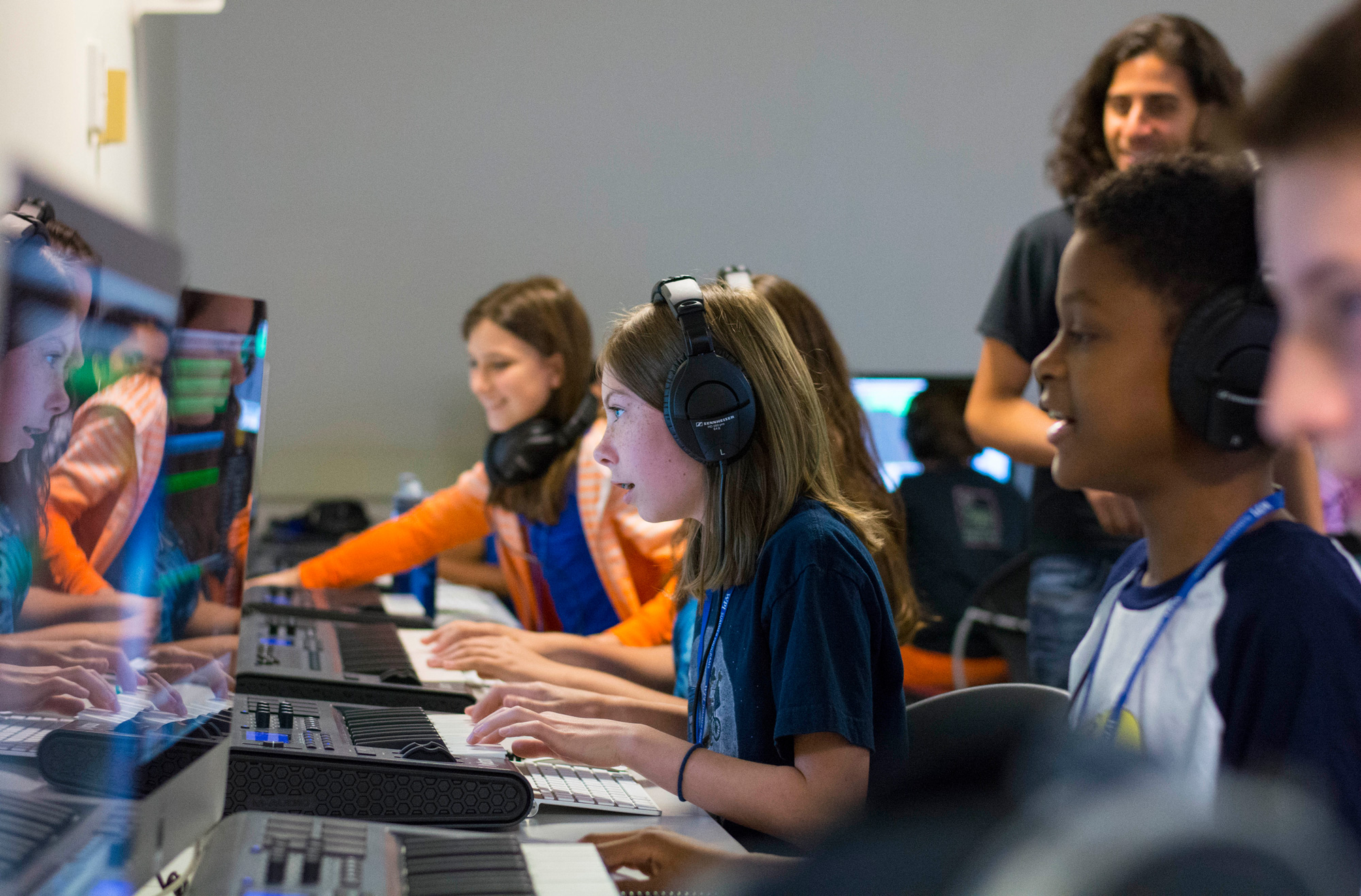 If you are a student interested in applying to be a part of this camp, have your parent or teacher
contact us
. This camp is completely free for needs-based applicants thanks to the generous support of
the Les Paul Foundation
.
What Do Kids Do at Music Tech Camp
During the academic year with undergraduate students, our faculty help students explore innovation in three open-ended overarching areas of musicianship in which Les was a pioneer: guitars made of varying materials and dimensions, audio effect and processes, and musical instrument transducers/pickups and electronics. More info on these projects can be found here.

During the summer with campers, we teach aspects of musicianship and creativity using many of the tools created by undergraduates! As an example shown below, undergraduate students replicated Les Paul's "rail" instrument, and we then developed a 3D-printable "lil' Rail Kit" that campers could fabricate and assemble themselves!
Throughout the week, students get a hands-on crash course overview of the basics of sound, audio recording, synthesis, MIDI sequencing, multitrack recording, performing with tech-based music instruments, writing music for video, writing music for multimedia, and much more. Through the use of technology, old and new, the camp faculty emphasize and encourage aspects of innovation, experimentation, and exploration "as Les lived it".
What Does Camp Sound Like?
Each day of the camp is focused on a new music-making theme, and features a variety of composition and performance activities using standard applications like GarageBand and Live and unique composition and performance technology and music video games developed exclusively for the camp. Students also learn about innovation through the lens of studying Les Paul's lifetime of experimentation at the convergence of music and technology. In addition to discussing musical and technical concepts, we discuss the importance of taking risks, facing failure, and being resilient by drawing specific examples to Les' work. Here are just some of the unique music-making activities students have done:
What the camp sounds like!
Our friends who help make this happen!
We are thrilled to have the support of many individuals, companies, and groups who partnered with us to run this camp! We're proud to see our students using many of the great products from these companies during this camp!